Feature Highlight: The Customer Communication Tracker
The Customer Communication Tracker screen allows administrators to view, create, and manage all customer communications that are generated in ClassJuggler or elsewhere. The benefit to you: you only need to look in one place to find and search for ALL your communications with any customer.
The Customer Communications Tracker can track Outgoing emails such as:
Account statements
Late payment notices
Customer Portal emails, including welcome emails, forgotten password emails, and online order emails
Mass emails to customers
Confirmation statements
Payment receipts
Outgoing SMS Text messaging for individual customers and Mass SMS
The Communication Tracker also tracks records you and your staff can create for various communications including:
Emails sent to and received from a customer
Phone calls made to and received from a customer
SMS Text sent to and received from a customer
Other outgoing or incoming contact (letters, package, etc)
To manually create a new communication entry:
Select a customer from the List Customers screen.
From the sidebar menu click on the Communication Tracker.
Click the Add New Communication Entry button.
Select the Contact Type and fill in the Contact Title, Additional Info, and any Notes you have.
Click Save.
All entries in the Communication Tracker list can be viewed and/or edited. If the item was generated by ClassJuggler, you will only be able to view, not edit, the details of the communication entry. If you or your staff manually created the tracker entry, you will be able to view and edit the item.
Tracking all communication with your customers is important during a dispute, for instance, where a customer may claim they were never sent an account statement, late payment notice, or other reminder. With the Communication Tracker you have the records to show what the customer has received from you and from ClassJuggler. Communication entries are retained for 2 years from the date of entry.
If you haven't been using this great help tool, try it out today. And check out these reviews by several of our clients of the built-in Customer Communications Tracker feature!
And the Winners Are...
The winners of the three full-attendee passes to Dance Teacher Summit in Long Beach CA, valued at $575.00 each, are:
Gabrielle Barnett: Owner of Studio One School of Performing Arts - Altus, OK
Renee Campbell: Owner/Director of Body Architects Dance and Exercise Studio - TX
Kimberly Coffey: Owner of Arabesque Dance Studio - Cartervill, IL
And the winner of the one full-attendee pass to Dance Teacher Web, being held in Las Vegas NV, valued at $647.00, is:
Lee Roberts: Manager of Marketing & Operations at The Dance Gallery 2 - Roseville, CA
Congratulations to our winners and thanks to all of you who entered.
The Much-Anticipated Staff Portal Webinar!
The latest webinar on ClassJuggler's new Staff Portal is now available for viewing online at your convenience.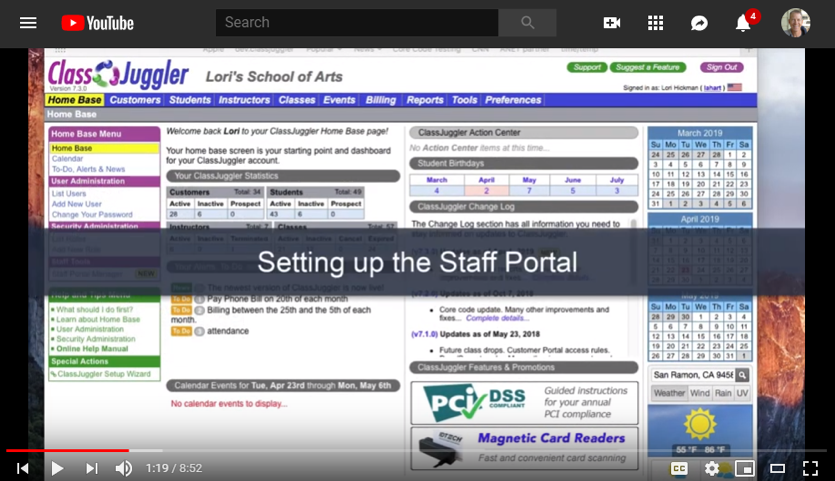 All of our webinars can be found on our
YouTube
channel. You can find the link to this site at the top or bottom of the ClassJuggler signin screen. Once on the site, click on
Tutorial Videos, Watch and Learn
.