If you are a business, it's important to be able to get messages quickly to your customers.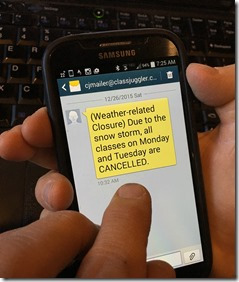 For example:
When weather forces a class cancellation
To send a reminder for performers regarding which costume they need for today's appointment
To make a last-minute schedule change
Texting can be an ideal way to do this. It's something that many business software services, such as ClassJuggler, enable business owners or managers to do.
But doing it right — using smart business practices for texting — can be extremely important to make sure that the recipient doesn't tag your text messages as spam, which may result in the recipient or the recipient's mobile carrier blocking all future messages you send that person. To prevent getting tagged by a customer or mobile carrier as spam, follow these…
Business Texting Best Practices
Don't include a dollar sign ($49) or percentage sign (15% off) or other finance related marketing language, such as, "Purchase today!" Doing so can get your text message blocked by the mobile carrier as marketing spam mail. Avoid using the phrase free, sale, or buy.
Generally avoid using the text messaging service for marketing purposes at all. Certain government organizations have laws against using text messaging for marketing in order to protect consumers.
Instead, consider texting customers as a great way to send important and timely messages to an individual or group of individuals To help with this, ClassJuggler's texting feature allows you to filter your recipient list by class, parents versus students, date of class, and many other factors, so you can limit text messages to just those who really need to receive it.
Go easy on the frequency of messages you send out. In today's busy world, you can quickly annoy your customers by bombarding their phone with messages, which could motivate them to block your messages altogether.
Also to avoid annoying customers, who may be in the middle of other important business, make sure the content of what you're sending is actually relevant and timely to them. If it isn't both timely and relevant, it's better to send messages by email.
Don't use the phrase "reply STOP"
Make sure to get permission from your customer to send the messages this way. An easy way to do this in ClassJuggler is to include information about your intention to do so when parents are signing up in the Parent Portal to request classes or make payments online. They will pass through screens that require the parent to click a checkmark box indicating their agreement with whatever you have written.
Following these good business practices for SMS/texting will help ensure that your phone number is not
blocked by an individual recipient or by the recipient's mobile carrier.
Learn more about the SMS text messaging in ClassJuggler's Help. The SMS text messaging features are available in the following ClassJuggler products: