New customer? As you crawl into the ClassJuggler cockpit — a powerful piece of school management software! — these tips will help you get flying with it quickly.
Step #1: Check Out the Get-Started Video

To get an easy overview, take a look at our Get Started video.
It's designed to give you a quick and fun intro to the ClassJuggler environment
Step #2: Take Advantage of the Setup Wizard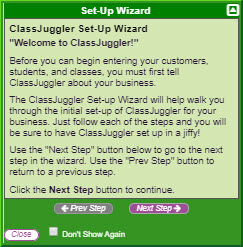 The ClassJuggler setup wizard is a revolutionary way to speed the setup of your ClassJuggler account so you can begin using it within minutes.
The setup wizard walks you through each setup step to define your preferences and tell the ClassJuggler about your business.
The wizard is also a brief tutorial, introducing you to ClassJuggler's many features.
Step #3: Look for Green Along the Way
As you navigate various features, look for the green question marks. Hover over them with your mouse for a brief explanation, or click on them to open the Online Help Guide to dig deeper. Here is an example from a student maintenance screen:

Step #4: Look Left!
Check out the Help & Links Menu on the lower left sidebar of every screen with links into the online help guide that is packed with examples, illustrations, and instructions:

Step #5: ANYTIME: Get 1:1 Help!
You can get personalized help (unlike many of our competitors) by calling our support line at (866) 214-6128 — the perfect support solution when you've got just a few minutes between classes, for instance, and need a little guidance with a particular feature.
Or, if you need LOTS of help, our customer support specialists can schedule a one-on-one consultation to walk you through things.
If it's after support hours, or you have a non-pressing question, click on the "Support" button at the top of any screen, or e-mail us at support@classjuggler.com and we'll respond as soon as possible