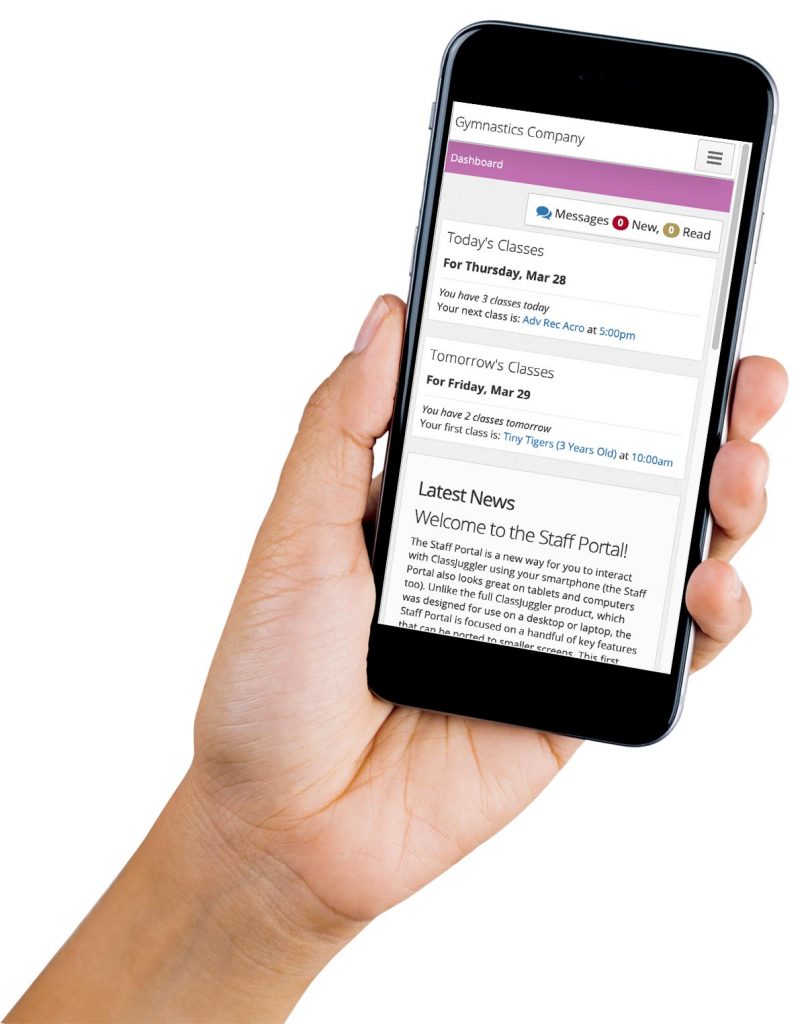 ClassJuggler recently released top requested features from a client survey: the Staff Portal.
No upgrade or price bump to get the staff portal, as it is included in the basic ClassJuggler product, therefore FREE for all clients.
The needs of instructors and the information they need most are included, but all administrative users of ClassJuggler will have access to the Staff Portal too.
The Staff Portal gives your instructors and other staff 100% smartphone- and iPad-friendly access to key ClassJuggler features.
Instructors and staff can access these targeted features without a Wi-Fi connection — particularly handy if the staff member is working remotely (which is one reason why bus-based schools that go to their clients love this feature).
The Staff Portal's "dashboard" feature acts as a launchpad for all that the staff member may want to do from their mobile device. This includes a news page for staff updates and important announcements, and will show the instructor's next classes for today and tomorrow in their dashboard schedule.
Your instructors can dig deep with a click to view lists of all their assigned classes, and they can view class details, class enrollees, and class attendance screens.
Beyond viewing class attendance screens, instructors can enter class attendance directly from their phones, and in an interface optimized for mobile devices, with these class attendance updates automatically porting over to your ClassJuggler account database records, no extra steps required.
We designed the Staff Portal to work well for the smallest of common interfaces — smartphones — but it also looks and works great on tablets and full-sized computers.
How to access the Staff Portal on your computer or mobile device
You can access the Staff Portal from the same sign-in screen you use to sign in to ClassJuggler. Just click the "Go to Staff Portal sign-in" link at the bottom of the sign-in screen:
The staff portal is available to ALL our clients, including those using:
Please tell us how the new Staff Portal works for you, and expect more Staff Portal features to come later this year !