A couple weeks ago, we introduced a brand-new feature within ClassJuggler, one for which we are getting lots of positive feedback from our customers. The new feature, designed to help our customers (class-based businesses) continue to do classes during coronavirus business restrictions by creating virtual classes (Zoom, YouTube, join.me, WebEx, etc.) within ClassJuggler, and then display the class and its link to the students. Now, we've got some new resources for you to help you get on board with this timely feature!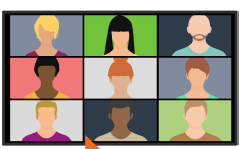 If you are using our class display features on your website, here is what your customers will see after you've set up a virtual class:


After you have set up the class, students can simply click that link to join your teaching event. Pretty cool, right?
Any questions? Give us a call.