Answer: Of course you can post your school's videos directly to Instagram or Facebook. And, by all means, you should use those platforms, as well as using other video platforms, such as Rumble or Vimeo.
But that does not mean you shouldn't also have an active YouTube channel as well.
Why? A couple of reasons.
Reach (how many people see your video)
SEO (Search Engine Optimization)
That's the short story — the very short story! Let's look at these two key reasons more closely.
#1 — Reach matters.
Many people know that YouTube is the most successful and, by far, the biggest video repository on the Internet. For this reason, the default platform most people go to when they want to browse for videos to watch is YouTube. And because of YouTube's algorithms identifying similar videos that they think a visitor will like based on what they are already searching, you want to have a YouTube presence that users can potentially "happen upon" even if they weren't looking specifically for your class-based business.
When you are trying to approach a specific audience, it helps to start by casting a wide net before picking through it for your best potential customers. For example, if your school is a dance studio, YouTube's algorithms are actively identifying the interests of the multi-million concurrent users, and may connect the 100 to 200 current users who are interested in dancing or dance lessons to your dance studio's videos.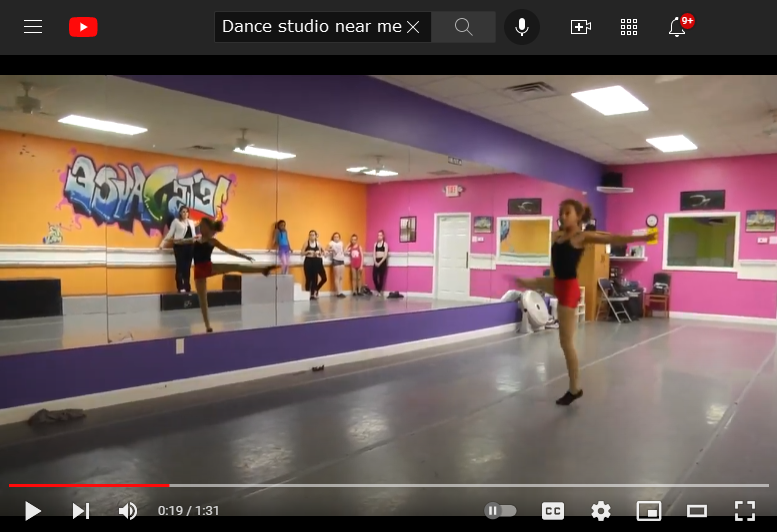 Beyond gathering new potential customers via your YouTube channel, your existing customers may go to YouTube assuming they will find your school's presence there. Why disappoint them?
So, instead of just posting your school's videos on Instagram or Facebook, get more exposure for your school by posting to YouTube as well so you can reach the most fans and potential future fans .
#2 — Google notices, then works in your favor.
As you likely know, Google is far and away the most used search engine, so anything you can do to get your business to show up higher in the search results when someone types in "swim school in Poughkeepsie" (or whatever and wherever your business is) the better. Most people only look at the results on the first page or two that Google serves up.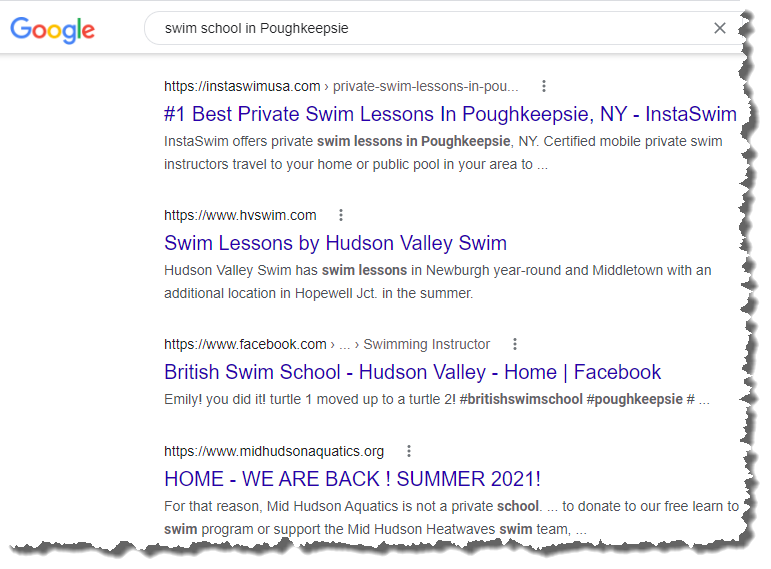 To get Google to serve up your business as high as possible in the results of a search, there are many things you can do to help Google perceive your business as highly relevant to the person searching. One of the ways Google's search engine measures how high up you should be in the results is by how many links to your website are out there on the Internet. The theory is that your website is more likely to be important and legitimate if there are many links back to your website from reputable and popular websites .
For this reason, you should attempt to have a presence on multiple social media channels since your description of each post can usually contain a web address, and you can use that to create a back link to your website.
So even if you upload a photo onto your Facebook newsfeed or on Instagram, post it on YouTube as well, which will give you yet more website links back to your main website if you remember to include your website in your YouTube channel description and anywhere else it allows you to, such as individual video descriptions.


Want more strategic guidance on having a YouTube presence for your class-based business? Check out the article Five reasons why your school should use YouTube.