Happy New Year from the ClassJuggler Team!
For most of us, unless you own Amazon, 2020 has been the worst year ever; personally and for our businesses. As we step into 2021, we see a break in those dark clouds and blue sky ahead. Thank you so much for your support of ClassJuggler during 2020.
The entire staff at ClassJuggler wishes you the best in this New Year. We are all looking toward rebuilding our businesses and getting back together with friends, our families, and holding classes with our students — Cheers!
Unexpected Closure? Need to Let Everyone Know?
It's Easy with ClassJuggler's Text Messaging!
Every so often, an unexpected event can cause you to close your business for a period of time, whether it's a dangerous snowstorm or just a power outage. You need to quick way to let your customers know that your classes will be canceled or delayed. We've got the answer for you with ClassJuggler's built-in texting tool!
The built-in mobile messaging feature makes it easy to get timely sms text messages to all or a specific group of your customers. And you can filter your text message recipients so that it only goes to the right audience for your message.
For example, you can specify that your closure message be delivered only to:
All families in classes that meet on a certain day of the week.
All of the parents with students in one or more classes you select.
Or maybe a blanket message to all active families that have students in at least one class.
To learn more, check out the handy Online Help Guide about texting customers and texting classes.
And for some great news; while some of our competitors charge per message for their clients to use their messaging tool, the ClassJuggler messaging feature has always been, and still is, completely free for unlimited texting.
Is Your Business Using the Staff Portal?
If you're not using ClassJuggler's Staff Portal, read about the features you have been missing:
PORTABILITY: The Staff Portal gives your instructors and other staff 100% mobile-friendly access to key ClassJuggler features. Because it works on your smartphone, you can access these targeted features without a Wi-Fi connection — particularly handy if the staff member is working remotely.
STAFF PORTAL HOMEPAGE: The Staff Portal dashboard includes a news page for staff updates and important announcements and shows their next class for today and tomorrow from their schedule.
INSTRUCTOR TOOLS: Your instructors can not only view lists of all assigned classes and view class details, class enrollees, and class attendance screens, but can also directly enter class attendance from their phones or tablets, and in an interface optimized for mobile devices!
Because this feature was designed to be fully mobile responsive, the Staff Portal also looks great on tablets and computers. The Staff Portal is focused on the needs of instructors and the information they need most, but all administrative users of ClassJuggler will have access to the Staff Portal. And the Staff Portal will be adding additional features as it matures including employee time tracking for your payroll. Try this great feature out today!
Watch and Learn
If you prefer learning by watching video tutorials, rather than reading how to do something new in ClassJuggler, we encourage you to keep an eye on our growing collection of tutorial videos in the ClassJuggler Tutorial Videos section of our YouTube channel.
To make sure you don't miss any new videos, just click the SUBSCRIBE button on YouTube to be notified of the latest tutorial videos.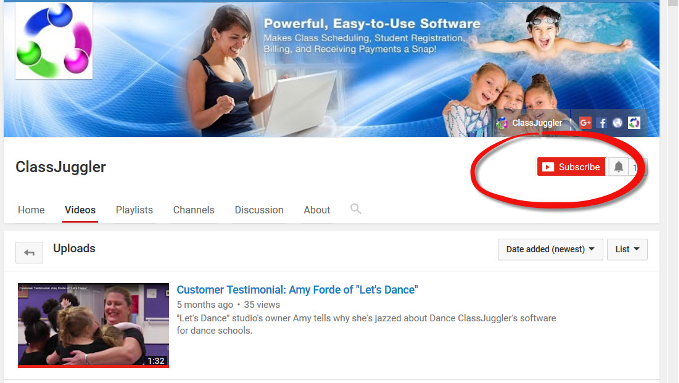 Also, watch for our upcoming webinar schedule featured right here in our monthly newsletter.
And as always, don't hesitate to reach out with your questions...
We really want to know if you have any suggestions for how ClassJuggler can help your businesses continue to operate as efficiently as possible during the pandemic. Please reach out to us via email or a phone call to (866) 214-6128 if you can think of anything that would make an impact on helping your business. We will continue to maintain normal support hours for all clients throughout the pandemic!