General Release of the New Time Clock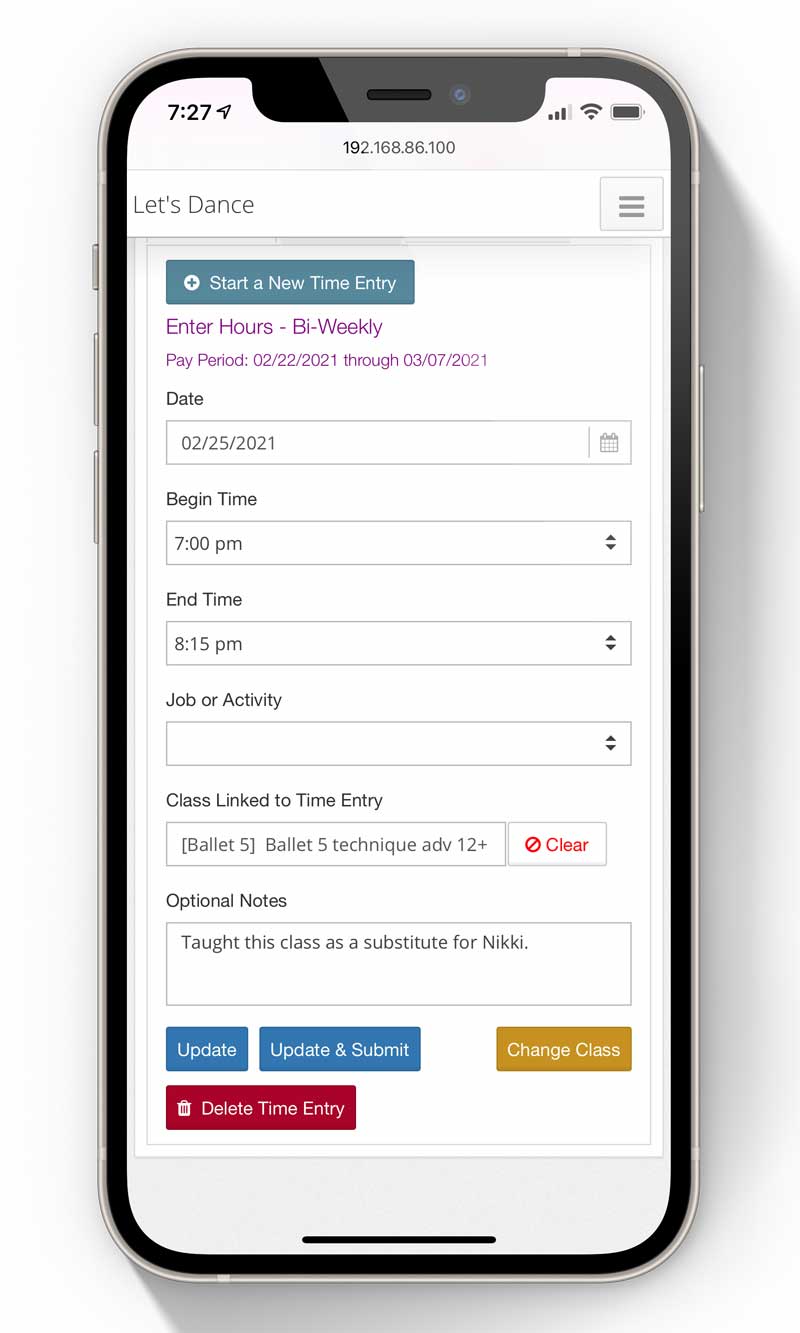 General release scheduled for mid-May for all ClassJuggler clients
We are just about finished with the preview of the Time Clock for our Early Adopter group. This group of ClassJuggler clients has been using the new time clock feature at their businesses and has been working with ClassJuggler to provide feedback and suggestions for the Time Clock prior to the general release. We are happy to say that our pre-release has gone off without any significant issues or changes. We will be releasing the new Staff Time Clock for all ClassJuggler clients by mid-May. We certainly appreciate your patience while we worked with our pre-release group. Get ready for a new and easy way to track time for your staff members soon.
Easily Create Summer Sessions
If you are one of our many clients that run Summer sessions, a great way to differentiate these classes from your other classes is with the Session/Group label. If you'd like to set up a separate Session/Group label for your Summer season, here's how:
Start by going to Preferences > Class Session/Groups.
Create a name for your summer session, something like "Summer" or "Summer 2021" (or any label you want for the session).
Once you've created your class Session, you can then assign that session to any of your existing or new classes.
And finally, once classes are tagged with that session, you can then use that label to filter classes on reports, class listings, Web site listings, your Customer Portal class stores and more.
Disabling Your POP-UP Blocker
We get lots of calls from users who are having problems because their Web browser software is blocking ClassJuggler's alerts and confirmation windows. It's easy to identify the cause of the problem, because ClassJuggler can actually detect when you have pop-up blocking enabled and presents you with a warning right when you sign-in.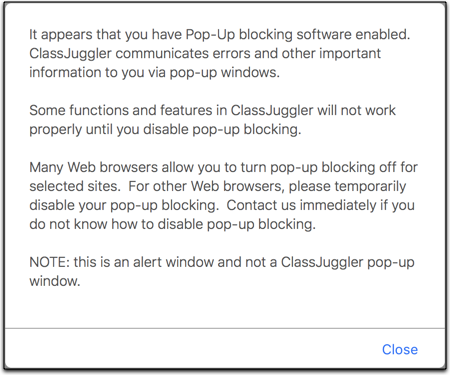 Disabling your pop-up blocker is a necessary tweak to your web browser software and, if not handled correctly, can cause confusion and make it seem like ClassJuggler is not working in certain situations.
Disabling your pop-up blocker in Safari, Chrome, or Firefox is easy and will fix your problems in a jiffy.
Safari – The pop-up blocker settings are always under the "Safari" menu under "Settings for This Website..." Make sure the Pop-Up Windows setting is set to "Allow."
Chrome – Select "Preferences" from the Chrome menu (Mac) or click on the three dots on the right side of the window and select "Settings" (Mac and Windows). From here the simplest method is to search the settings at the top for the term "pop-up" which will take you to the Privacy and Security settings for pop-ups and redirects. Then add "https://www.classjuggler.com" in the "Allow" section.
Firefox – Select "Preferences" from the Firefox menu (Mac) or click on the stacked bars menu on the right side of the window and select "Preferences" (Mac and Windows). From here the simplest method is to search the settings at the top for the term "pop-up" and make sure that if the Block Pop-Up Windows setting is checked, you have added an exception for ClassJuggler. Add "https://www.classjuggler.com" as an exception to allow pop-ups for ClassJuggler.
Watch and Learn
If you prefer learning by watching videos, we encourage you to regularly visit our collection of tutorial videos in the ClassJuggler Tutorial Videos section of our YouTube channel.
And to make sure you don't miss any new videos, just click the SUBSCRIBE button on YouTube to be notified of the latest tutorial videos. While you are there, check out the latest addition:
The Staff Time Clock Video: A walkthrough of the new Time Clock feature, from an employee perspective, showing examples of adding time, selecting classes, and reviewing saved and submitted time.
And coming soon: watch for the Staff Time Clock for Administrators video: a walkthrough for your class-based business's administrators, showing them how to set up the Staff Time Clock feature and how to approve submitted hours from your staff.
And as always, don't hesitate to reach out with your questions...
We really want to know if you have any suggestions for how ClassJuggler can help your businesses continue to operate as efficiently as possible during the pandemic. Please reach out to us via email or a phone call to (866) 214-6128 if you can think of anything that would make an impact on helping your business.