Staff Time Clock Reports – Time Summary
Have you noticed that the Live Time Summary report is now available for viewing from the Staff Time Clock > Reporting menu bubble? You can find the Staff Time Clock at the bottom of your Home Base menu. The Time Summary Report generates summaries for a selected payroll period for all staff members that have approved time. The report breaks time into two tables for each staff member:
Approved Time by Job - For all time logged against any jobs not related to teaching a specific class.
Approved Time by Class - For all time logged against specific classes taught.
This report is great for getting your totals to transfer to your payroll system/service at the end of each pay period.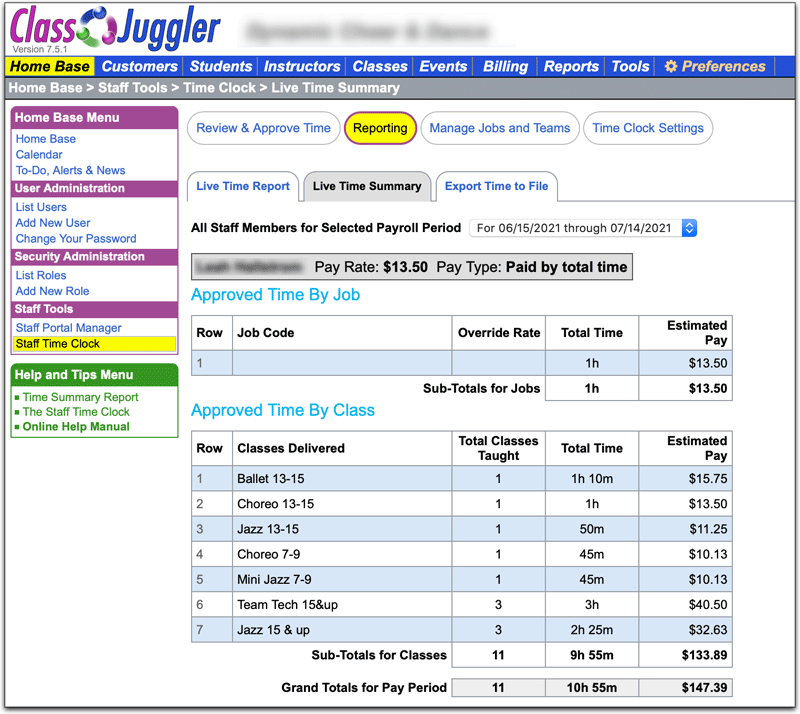 Update to the Staff Time Clock
In our latest release, version 7.5.1, we made pay periods for monthly pay even more flexible by allowing you to define the begin and end of your monthly pay period. We also simplified the semi-monthly pay period to no longer ask you for a start day of the week (since this was irrelevant to that frequency). Thanks for all of your feedback for these enhancements.
Forgot Your Password?
Resetting a password is as easy as 1, 2, 3. All you need to do is:
Go to ClassJuggler's sign in page and click on the I forgot my password link. Enter your user ID and click on the Reset my Password action button.
Check your email for the new temporary password.
Enter the new temporary password on the sign in page, and then follow the instructions on the Change Your Password screen to create a new password.
When you receive your password reset email, it's easiest to simply copy the temporary password from the email into the sign-in screen. You will now be signed back in to ClassJuggler.
Did You Attend the Las Vegas Dance Teacher Web?
If you attended the Dance Teacher Web conference in Las Vegas this July, you may have seen Jon Koerber giving demos and answering questions at the ClassJuggler booth. Hope you stopped by to say "Hello!" and get a pic with him.
The next conferences where you can meet your ClassJuggler team: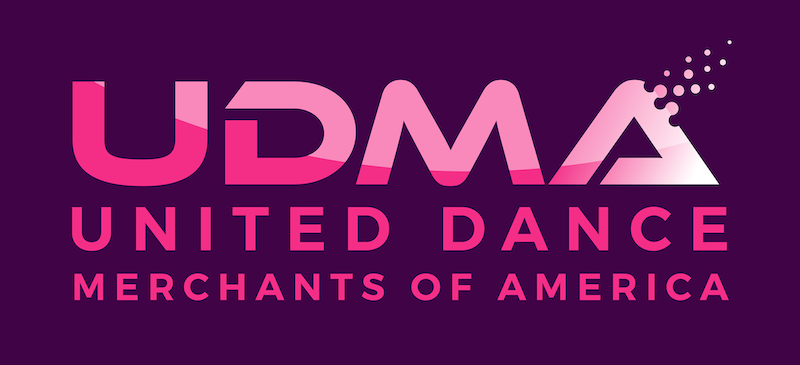 U.D.M.A. - Orlando, Florida
Dates: Sept 25 through Sept 26
Location: Orange County Convention Center

U.D.M.A. - Dallas, Texas
Dates: Oct 23 through Oct 24
Location: Hyatt Regency Dallas

Win a Ticket to the Orlando or Dallas U.D.M.A. Show!
Want to attend a U.D.M.A. show for free? Just send you name, studio name, and which show you'd like to attend to contest@classjuggler.com for a chance to win a "Full Access" entry ticket! Winners announced on Monday, August 16th. Cutoff for entry is Friday, August 13th.
Even if you won't be attending, encourage your dance studio owner friends who will be attending to drop by our booth. We'll send you $50 if they sign up for ClassJuggler with your referral.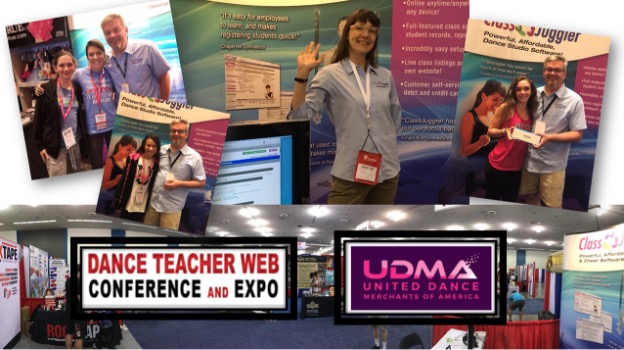 Watch and Learn
If you prefer learning by watching videos, we encourage you to regularly visit our collection of tutorial videos in the ClassJuggler Tutorial Videos section of our YouTube channel.
And to make sure you don't miss any new videos, just click the SUBSCRIBE button on YouTube to be notified of the latest tutorial videos.