Summer Classes & Registration Tips
Many of our clients are preparing to or have already begun to take registrations and enrollments for summer session classes.
ClassJuggler's integrated registration system makes it easy to manage who has paid their annual or season registration fee and track those who are not yet registered. However, many of our clients do not require registrations for summer sessions and want to skip charging registration fees for those classes, while still keeping registration active in the case of early enrollment in a fall class.
Here are some tips for making the registration system work for you through your summer sessions
TIP #1 – Make Registration Optional
An easy way to maintain registration but allow it to work with both summer and regular classes is to make sure the registration system is set to "Optional" under your preferences. This allows you to decide on a case-by-case basis for each class enrollment whether to require that a student be registered (if they are not already registered) or skip the registration charge.
For example, if a parent were to request a class for a new student you have not taught before, and that class is a summer class, you can choose to skip the registration and simply complete an enrollment for that student in the class.
TIP #2 – Temporarily Disable Customer Self-Service Registration
If you are one of our many clients using the Customer Self-Service Center, you need to pay special attention to your self-service registration settings. If registration is enabled under preferences and is turned "on" for the self-service center, all unregistered students will be registered regardless of the classes they have in their shopping cart.
A good trick to maintain the rules of registration, but not automatically charge a registration fee to all new students added in self-service, is to temporarily disable registrations from the "Student Registrations" tab on the Self-Service Manager screen. This still allows you to review incoming orders to see if the selected class is a summer or regular class and then determine, on a case-by-case basis, if you need to post a registration charge or not. Then once the summer enrollment period ends, you can turn the student registration feature back "On" from the Self-Service Manager screen.
Help! I don't know the best way to handle my registration situation.
There are so many different ways to accomplish the same goals. Give our customer support team a call. We'd be glad to help steer you in the right direction.
April $250 "Video High-Five" Contest Winner Announced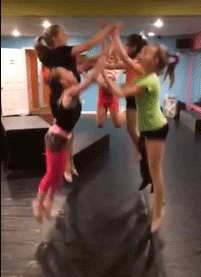 Ever wonder what your odds of winning a ClassJuggler contest are? It's guaranteed to be zero chance of winning if you don't enter! :-)
With that in mind, we congratulate our video-high-five contest winner: Let's Dance of Mauldin, SC. Their's was the only submission (talk about good odds!).
Check out their cute entry on our YouTube page — a 7-second video that earned them the $250 prize. That's like earning the equivalent of $2,142 per hour!
Congratulations from the entire ClassJuggler team! And thank you for helping us to celebrate our 10-year anniversary.