Welcome Alexia to the ClassJuggler Team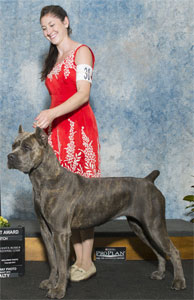 We are pleased to welcome Alexia Rodriguez to the ClassJuggler team! Alexia joined ClassJuggler's Customer Service and Support team in August and is getting up to speed on ClassJuggler and working with our clients.
Alexia is the proud dog mom of more than a few Cane Corsos, Lowchen and a rescued German Shorthaired Pointer. For fun, she and her husband compete with their dogs in shows, agility trials and Schutzhund competitions.
Alexia has worked for several tech startups in the San Francisco Bay Area in numerous roles such as tech support, customer service liaison, data specialist and bug reporting, to name just a few. She enjoys the challenge of solving problems and in doing so helping customers run a successful business.
Please help us in welcoming Alexia to the ClassJuggler family.
Big Changes to Merchant Processing
For years, ClassJuggler has been offering credit and debit card processing services through its partners CyberSource and Global Payments—but recently we've had a big change.
In June, our gateway partner CyberSource, who was recently acquired by Visa, shifted its focus to serving only much large companies. This required us to look for a new partner for our gateway services. Our criteria was not only to find a partner that had great customer service, but one that would be no more expensive than our old service.
In late June, ClassJuggler became a direct reseller of Authorize.Net, a company specializing in providing small business gateway services. This new gateway provides us with two distinct benefits over CyberSource: (1) ClassJuggler can now set up and support Authorize.Net directly for our clients, a big improvement over CyberSource, and (2) our pricing is actually lower, saving most of our clients another $100 - $120 annually in fees!
Our other big change was with our merchant account provider. We are moving from Global Payments to First Data Corporation for our merchant services. First Data provides ClassJuggler's clients with better tools and support for their merchant accounts and has a much simpler application process and generally lower fees.
Together, our new package of merchant services will help us provide you, our clients, with better support and services as we continue to grow.
ClassJuggler System Upgrades - Complete
Over the past month, ClassJuggler has been moving its servers to our new data Center in Northern California. This move will help us to keep up with the growing demand for our services and allow us to continue providing top quality 24x7x365 services to our clients worldwide.
We are happy to have completed the move without a hitch! Our clients can now enjoy data transfer speeds as much as 50x faster than our previous hosting services.