Prorated Billing for the Holidays
One of the really powerful features of ClassJuggler is its ability to handle prorated billing, both for calculated class occurrences during a month and for "closed" days on your calendar.
Prorated billing is handled, at the time of enrollment, for all three of our supported tuition types: monthly, per class, and total. That's great, but what about handling prorated fees during an ongoing billing cycle when posting new tuition? Well, proration and excluding closed calendar dates has always been supported for Per Class based pricing. What you may not have known is that, as of release v6.5.1 of ClassJuggler, the monthly tuition type can also have prorated fees based on closed calendar dates. This is an optional feature that you can check when running your Post Tuition billing cycle step.

Additionally, any time ClassJuggler prorates tuition for per class or monthly-based tuition, it adds a secondary description to the transaction explaining "how" it calculated any prorated discounts. This is incredibly useful when you need to determine why a certain amount was posted for a particular family.
Some things to remember about prorated tuition:
Make sure that the classes that you want tuition to be prorated for (per class or monthly) have the checkbox for "skip 'closed' calendar event dates" enabled under Step #2: Class Schedule. If this is not set, ClassJuggler will assume you have skipped this class for prorating due to calendar closed dates.
Per Class tuition always prorates based on class occurrences per month and also supports closed calendar dates by default.
Monthly based tuition allows for prorated class fees for closed calendar dates only when the checkbox is set on the Post Tuition billing cycle screen.
— Article by: Jon Koerber of ClassJuggler
Tips for Handling Pop-up Blocker Issues in ClassJuggler
ClassJuggler has a number of ways it communicates with users. One of those is to display an alert or confirmation window to verify particularly important actions – for example, voiding a payment or deleting a customer record. When a pop-up blocker is enabled, it can cause confusion and make it seem like ClassJuggler is not working.
We get lots of calls from users who are having problems because their Web browser software is blocking ClassJuggler's alerts and confirmation windows. It's easy to identify the cause of the problem, because ClassJuggler can actually detect when you have pop-up blocking enabled and presents you with a warning right when you sign-in.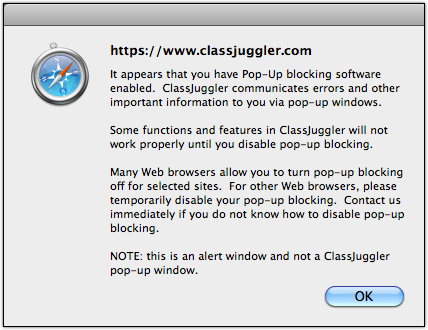 In our age of short attention spans, very few of us take the time to read, even when that message is right in front of us begging for attention.
A typical support call sounds something like this, "when I click on the action button, nothing happens?" Our first question to the users is always, "when you logged into ClassJuggler today, did you see an alert on your Home Base screen letting you know your pop-up blocker is enabled?" to which they reply, "Yes, but I just close that message..."
Disable Your Pop-Up Blocker
Disabling your pop-up blocker in Safari or Firefox is easy and will fix your problems in a jiffy.
On Mac OSX, the pop-up blocker settings are always under Preferences, which you will find by clicking the Safari or Firefox menu just to the right of your apple menu. In Safari, go to the security tab and uncheck the pop-blocker setting. On Firefox, go to the content menu and choose the "exceptions" button to the right of the block pop-ups checkbox and add "classjuggler.com" as an exception to the list.
On Firefox for Windows, click on the "hamburger menu" on the far right, go to the content menu and choose the "exceptions" button to the right of the block pop-ups checkbox and add "classjuggler.com" as an exception to the list.
Important: Other Web browsers like IE and chrome are not supported, so use at your own risk.
— Article by: Jon Koerber of ClassJuggler