ClassJuggler Version 6.6.0 Coming in March
We have been hard at work now for many months on a big release of ClassJuggler. Version 6.6.0 will deliver new features, including the much anticipated Customer Communication Tracker, a ton of other enhancements, and a number of important bug fixes. Our goal is to have the release ready in mid-March, so keep a lookout on your Home Base screen for complete news and release notes for this important free upgrade.
Feature Spotlight – Referrals & Marketing Tracking
In this month's newsletter we wanted to share a feature you may not have been aware of. The Referrals and Marketing (R&M) tracking feature is an easy way to gather information about how customers have learned about your business. Its especially powerful when enabled in the Customer Self-Service Center portal, since customers can provide this information to you while registering online.
R&M can provide valuable data on where best to spend your marketing dollars by better understanding how customers are finding you. Was it through a referral from a parent? Maybe you advertise online, or through Facebook or Google Adwords. Maybe they drove by your location, or possibly even heard about your business at their school.
You'll find the table to set this up in Preferences > Referrals and Marketing. Below is an example: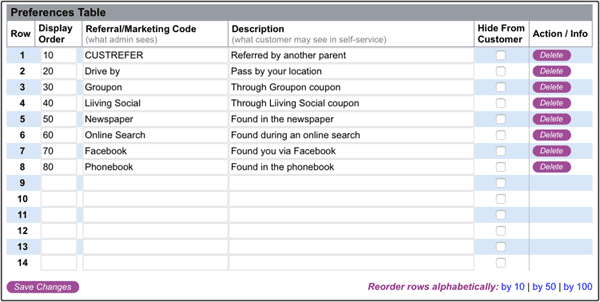 Enable Referral & Marketing for Online Registrations
Enabling the ability to collect this information during online customer registration is set under the "My Information" tab in Tools > Self-Service Manager. Once this is enabled, there will be a new question on the registration form asking "how did you learn about our business?" Customers can select from the list you provide and can also optionally type in comments to provide more information.

Reel In The Data and Make Better Marketing Decisions
Once you have some R&M data in your database, it's easy to pull a report from ClassJuggler that shows your customers' Referrals & Marketing responses. Simply navigate to Reports > Referrals & Marketing. From here you have a number of filters you can select. You can choose PROSPECT, ACTIVE or INACTIVE customers. You could also limit the report by postal code, or by a DATE RANGE so you only get results from R&M records created between the dates you choose.

— Article by: Alexia Rodriguez of ClassJuggler