ClassJuggler Version 6.6.0 is Here!
On March 21st, 2016 ClassJuggler launched the huge new version 6.6.0 of ClassJuggler. We are thrilled to be able to share this new release with all our clients.
Many of you have been asking for a better way to track communications in ClassJuggler, especially being able to track which customers were being sent emails and text messages. As busy as we all are, it can be hard to remember who was sent what, when and where. In response to this popular feature request, we've built the customer Communications Tracker.
Introducing – The Customer Communication Tracker
ClassJuggler has dozens of built-in communications tools, from emailing account statements, payment receipts, to mass emails and text messages. With the new Communications Tracker, ClassJuggler will automatically log 23 different communications for you!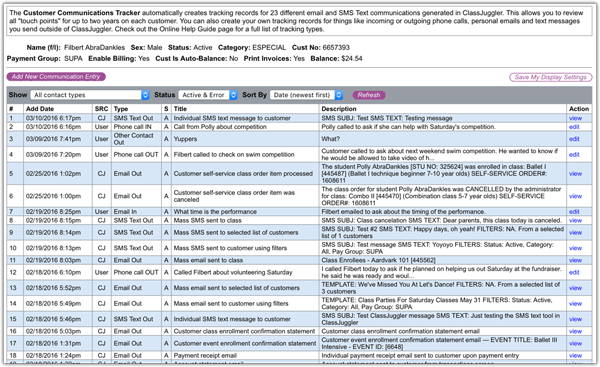 Each entry will tell you what type of communication it was, when it was sent, which admin user sent it, and for emails, will tell you if the recipient's email was valid or not. So, every time you email an account statement, send a payment receipt, send a class confirmation, or any of the other 23 types of communication in ClassJuggler, it will be automatically logged for you. You now have backup proof and details of every communication sent to your customers. This can be so important in the case of a customer dispute.
You can also add 8 types of custom communications yourself to track things like calls placed or received from customers, emails and text messages sent outside of ClassJuggler, or any other type of communication. And all of your tracker records will be saved for up to 2 years!
You will find the new Communications Tracker on the Customer menu, after selecting a customer. Don't forget to read your Online Help Guide to see all 31 types of communications it can track!
Spring Contest – Three Entrants Will Receive $50!
We are so excited about the new Communications Tracker, we want to hear how this new tool has helped your business. And as a thank you for your feedback, we are giving three lucky entrants a chance to win a $50 Target® gift card. Send us an email at contest@classjuggler.com and provide the following:
Your Name
Your Business Name
and how the Communication Tracker has helped your business or resolved a problem with a customer.
Entries must be received by end of day on
Wednesday, April 20th
.
* Three entries will be chosen at random and will be featured in the May newsletter.
* You must be a ClassJuggler client to enter.
Feature Spotlight – Enhanced Tuition Charge Descriptions
Another great feature from the v6.6.0 release is the addition of enhanced tuition charge descriptions. When you post a tuition charge, either through a class enrollment or from running a 4.Post Tuition billing cycle step, ClassJuggler now can track additional information that can be extremely useful in understanding why a particulate tuition charge ended up that way. Prorated tuitions or tuition calculated "per class" are the most common types that will have enhanced descriptions.
You can see this enhanced information by hovering over the description column of any tuition charge on a customer's account that has a little green "dog-ear" in the corner (meaning more information).

With the new tuition description feature, not only will you see the usual charge row, but you will now also see an additional description, showing exactly how the tuition amount was created with any overrides and proration calculations. This can be very useful when trying to understand how a final tuition amount was calculated.
— Article by: Alexia Rodriguez of ClassJuggler