Wishing All of Our Clients a Happy New Year!
For many of us, 2017 was not a great year – with all of the hurricanes and fires. But what a great opportunity for a fresh start, so cheers to 2018!
Winter Storm-Related Outage? Mass Text Messages to the Rescue!
A common scenario every winter: a sudden dump of snow makes roads impassable or dangerous. Or a sudden temperature drop during a rainstorm ices over the roads to your school. You need to quickly get the word out that one or several classes are canceled or delayed. There's an easy way: ClassJuggler's built-in texting tool!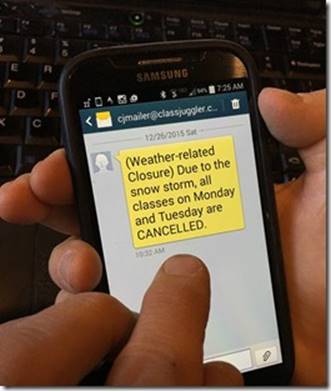 This highly customizable tool makes it easy to get timely SMS (text) messages to all or a subset of your customers. And you can filter your text message recipient list by certain attributes so that it only goes to the right audience for your message.
For example, you can specify that your closure message be delivered only to:
All of the parents with students in one or more classes you select.
All of the classes that meet on a certain day of the week.
Or maybe a blanket message to all active families that have students in at least one class.
To get the full scoop on the handy ClassJuggler SMS Messaging tool, join us for this month's webinar on Text Messaging in ClassJuggler. You can also use the handy Online Help Guide to learn more about texting customers and texting classes.
And here's some extra good news; while some of our competitors charge per message for their clients to use their messaging tool, the ClassJuggler messaging tool is totally free, no matter how many students you have!
Poll Results: The Impact of "Administrivia" in Your Business
Thank you all for your generous participation in our December 2-question survey. Your answers were revealing! What they showed:
Your class-based businesses spend on average more than 35 hours a month on administrative tasks related to registering customers, creating student files, signing students up for class, and handling customer payments for fees.
On average, 19 percent of our clients found that using ClassJuggler has cut their administrative tasks cut by 35%.
And almost twenty percent of our clients saw more than a 50% reduction in their administrative time.
If you feel your school hasn't benefited to that same degree, give us a call and we will take a look with you at your current usage of ClassJuggler; it's possible you are either not aware of, or not familiar with, some of its most time-saving tools. We'd be happy to walk you through some of them!
New: Customer Portal Video! The 1-Minute Scoop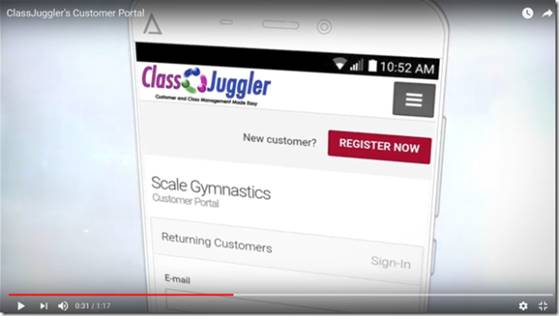 No bones about it; we are mighty proud of our brand new Customer Portal promo video, which shows you in one minute how to cut your administrative costs dramatically by letting customers do these things all by themselves. Check it out!