Wishing All of Our Clients a Happy New Year!
We have our sights set on a great new year. We hope you do too. From the entire ClassJuggler team, Happy New Year!
Weather-related closures? No problem. Text Messaging to the Rescue!
It's that time of the year when the weather can play havoc with your schedules: whether it's a sudden blizzard that makes roads impassable or dangerous, or icy roads that make travel treacherous. You need to quickly get the word out for any classes that are canceled or delayed. We've got you covered with ClassJuggler's built-in texting tool!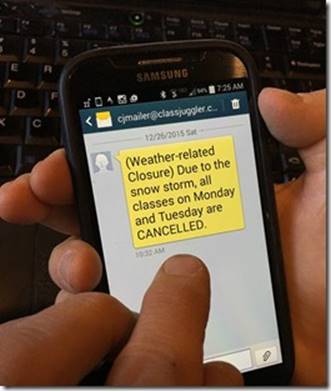 This flexible feature makes it easy to get timely Text messages to all or a subset of your customers. And you can filter your text message list by certain attributes so that it only goes to the right audience for your message.
For example, you can specify that your closure message be delivered only to:
All of the classes that meet on a certain day of the week.
All of the parents with students in one or more classes you select.
Or maybe a blanket message to all active families that have students in at least one class.
To learn more about this handy Text Messaging tool, check out the the handy Online Help Guide to learn more about texting customers and texting classes.
And here's some welcome news; while some of our competitors charge per message for their clients to use their messaging tool, the ClassJuggler messaging feature has always been totally free, no matter how many messages you send!
ClassJuggler Winter Survey
We want to know from you, our clients, how you use ClassJuggler and what types of features and functionality you'd like to see in future releases of our product. We have a short 4-question survey that will take less than 2 minutes for you to complete. To provide your feedback, click over to our online survey. Here are the four questions:
Have you used the "Suggest a feature" option at the top of your ClassJuggler screen to send us your ideas?
What feature would you be most interested in seeing in an upcoming ClassJuggler release?
How do you get support from ClassJuggler? (check all that apply)
Did you know that you can get a $50 referral when you refer another business to ClassJuggler?
Get $50 For Your Referrals
Want to earn a cool $50? Love how efficient ClassJuggler has made your business? Are you passionate about helping similar businesses such as dance studios, gymnastics schools,
swim classes, martial arts dojos, cheer camps, etc.? Tell another business owner about ClassJuggler and you can receive a $50 referral!
Simply have your referral enter your name and business name as their "Referral" when they sign up, and we will send you $50 to say thanks!
Full details and terms for referrals can be found on our fees policy page.