Why Your Staff Will Love the New Release
As you may know, ClassJuggler tries to accommodate our client's requests for new features. We are listening to your suggestions. One of the top requested features from a 2018 survey of ClassJuggler clients is the soon to be released Staff Portal. This will be the first iteration of the new feature, FREE for all clients, with lots of additional Staff Portal features to come in future releases. We'll cover the out-of-the-gate features you can expect as soon as this launches (targeted within the first two weeks of April).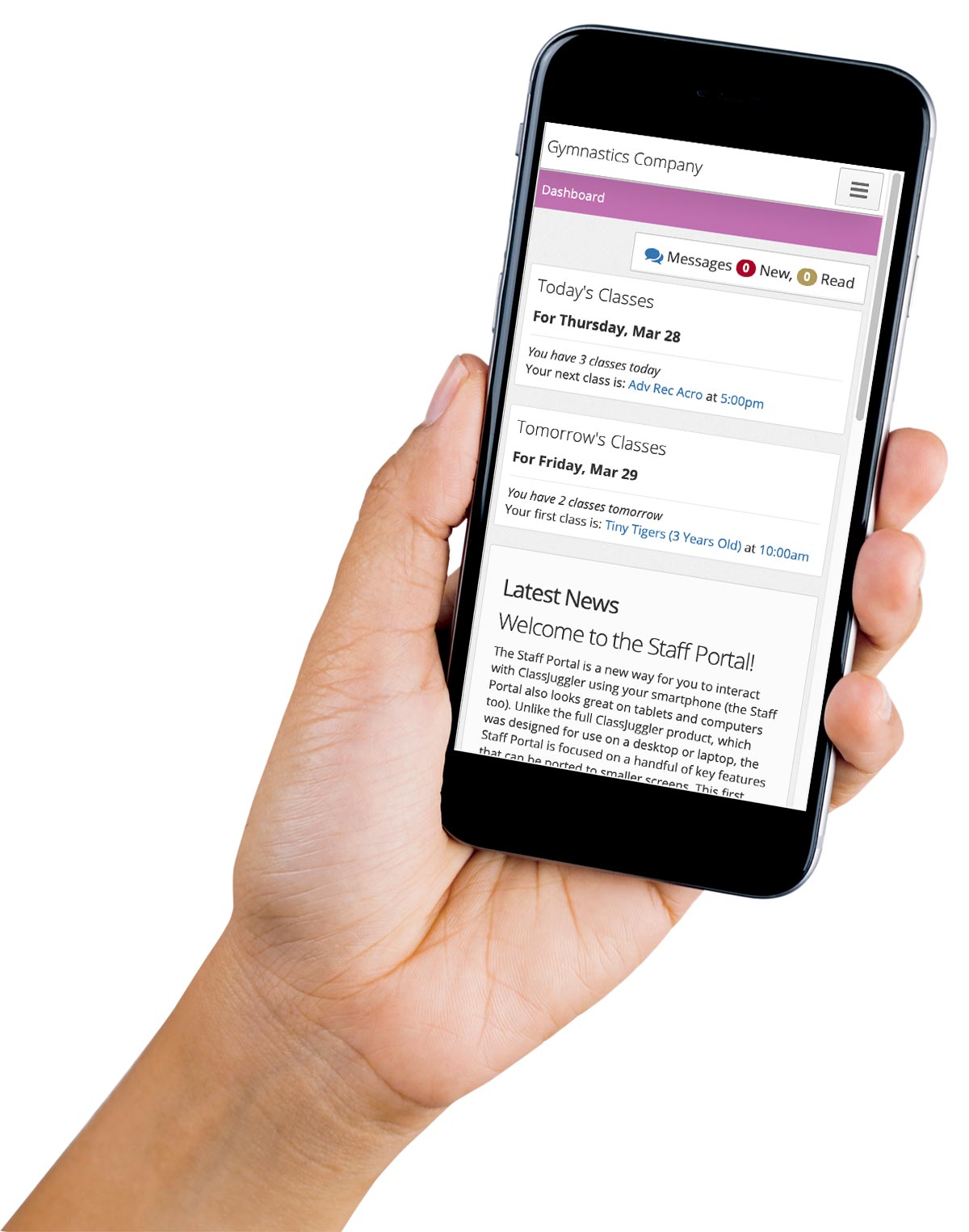 PORTABILITY – The Staff Portal will give your instructors and other staff 100% mobile-friendly access to key ClassJuggler features. Because it will work on your smartphone, you can access these targeted features without a Wi-Fi connection – particularly handy if the staff member is working remotely.
STAFF PORTAL DASHBOARD – The Staff Portal dashboard will include a news page for staff updates and important announcements and will show instructor's next classes for today and tomorrow from their schedule.
INSTRUCTOR TOOLS – Your instructors will not only be able to view lists of all assigned classes and view class details, class enrollees, and class attendance screens, but will also have the ability to enter class attendance directly from their phones, and in an interface optimized for mobile devices!
Even though this feature was designed for smartphones first, the Staff Portal also looks great on tablets and computers. This first release is focused on the needs of instructors and the information they need most, but all administrative users of ClassJuggler will have access to the Staff Portal.
Once it goes live, the Staff Portal is accessed via the same sign-in screen you use to sign in to ClassJuggler. Just click the "Go to Staff Portal sign-in" link at the bottom of the sign-in screen.
We look forward to your input on how the new Staff Portal works for you, and expect more Staff Portal features to come later this year!
Planning your Summer Sessions Today
Many of our clients run Summer sessions, and a great way to differentiate these classes from your other classes is with the Session/Group label. If you'd like to set up a separate Session/Group label for your Summer season, here's how:
Start by going to Preferences > Class Session/Groups.
Create a name for it, something like "Summer" or "Summer 2019" (or any label you want to call the session).
Once you've created your Class Sessions/Groups, you can then label any of your existing or new classes.
Once a class is labeled, you can then use that label to filter classes on reports, class listings, Web site listings, your Customer Portal class stores and more.
We know these enhanced communications will help reduce questions and confusion from parents as they use the Customer Portal and improve the overall flow of communication.
Planning & Building Your Classes
Before you begin creating the classes to fill your schedule, you'll need a basic understanding of how classes are created in ClassJuggler.
Classes are constructed in a four-step process (with an optional 5th & 6th step). You can also use the Copy Class and Tools > Mass Copy Class feature, to speed up creating new classes.
The steps for building a new class are:
Core Class Information – Use the fields and selectors in the Core Class Information section to describe and identify your class.
Class Schedule – Use the Class Schedule section to define information about a class's schedule, such as the start and end dates, days the class is held, start time, and class duration.
Class Tuition – You can define Class Tuition by one or more tuition options. Each class must have at least one tuition fee option but could have dozens if your classes have more complicated fee structures. There are three different tuition fee types in ClassJuggler to handle just about any fee structure you need for your classes. You can combine these fee options within a single class tuition table if you wish. The three tuition fee types are:

Monthly – for monthly fees that do not vary month to month
Per Class – good when you need ClassJuggler to calculate the monthly cost based on the exact number of classes held in a month and to skip days your business is marked "closed" on the Home Base calendar
Total – great for short duration classes and for summer classes where the full amount is billed upfront for the class

Class Instructors – Assign at least one instructor to the class (but you can have multiple instructors or assistants). The primary instructor is in the first position and is highlighted in pink.
The four "step indicators" in the upper right of the class maintenance screen show your status in completing the mandatory steps required to create a class (the fifth and sixth steps that follow are optional).
Once the fourth step is completed, an animated Offer Class action button appears, letting you know you can offer the class, which will take the class from inactive to active status and open the class for enrollment.
[optional] Class Skills – Although skills can be added to a student individually via the Student Maintenance screens, assigning skills to the class makes it easy to remember what skills are required by each student enrolled in a particular class.
[optional] Miscellaneous Class Fees – Miscellaneous Class Fees, as part of a class structure, can be added or removed at any time. Miscellaneous class fees can be used to represent materials fees, sign-up fees, a mandatory recital/competition/testing fee, or other mandatory and optional fees associated with a class.
Once your new summer classes are built and offered, you are ready to begin taking enrollments for your summer sessions!