How to Verify Your PCI Compliance Status, and Fix It!
Turns out that many of you are not keeping up with your PCI compliance – a critical step for any business who is using merchant processing to offer their students/customers the option of credit and debit card processing.
If you are accepting credit and debit card payments from any provider, you are required to complete an annual Payment Card Industry (PCI) self-assessment to ensure your business is following the guidelines. Failure to maintain PCI compliance can result in a monthly penalty fee or suspension of your merchant account.
Get the full story in our article ClassJuggler Customers: Time to Get PCI Compliant!, which includes tips to ensure you are receiving PCI compliance status emails, how to verify your status, and how to fix a status of noncompliance.
Top 3 Support Questions in ClassJuggler
#3 - I have a duplicate customer record! How do I merge the 2?!
While ClassJuggler and the Customer Portal both have duplicate checking functionality, it is sometimes possible (although rare these days) to have a family in your database twice.
There's a pretty easy fix for this issue:
Choose the record with the most history — especially financial and enrollment history.
Add any information from the duplicate record into the more established record.
Delete the duplicate.
#2 - How do I include a picture or file in an email template?
You can include in the body of your email template any photo, document, clip art, logo, form, etc. as long as it is viewable on a web link.
The simplest way to accomplish this is to keep a folder on your website with all your images and documents. For example http://www.mywebsite.com/images or http://www.mywebsite.com/competitive-team/photos/ or similar.
You can also use the public folder feature of one of several programs you can use to upload your images; Dropbox, Photobucket, and CloudDrive are just a few examples. On any of those sites, the image will have a URL (web address) that you can copy and paste into the email template using the "image" tool. Check out our tutorial video Adding images, files, and links to your email templates in ClassJuggler for examples.
So what is the #1 most often asked support question we answer?
#1 - Help! I forgot my password!
We all have too many accounts and passwords to remember these days, and forgotten passwords and general password help is the most common type of support question we get from our clients. Don't worry; you're not alone! One survey found that a quarter of the respondents forgot at least 1 password daily! A third of those folks also admittedly experienced intense frustration. So, just relax, take a deep breath, and click the FORGOT PASSWORD option on your Sign-In screen – you'll receive an instant email with a new temporary password to get you back online in a jiffy. Then...
On the Sign-In screen, paste the temporary password you received in the email and click the "Sign In" button.
On the Change Password screen, paste the same temporary password in the "current password" field.
Enter a new password of your choosing in the bottom two password fields.
Click "Update Password" and you are done!
As always, whenever you have questions, your ClassJuggler support team is always happy to help. No challenge is too small!
US Flag Cake - Enjoy a Light 4th of July Dessert This Holiday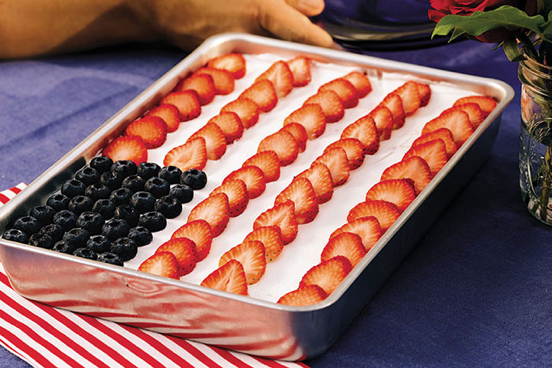 Easy and Delicious! Here's what you'll need:
4 cups fresh strawberries
1 pkg. (12oz) frozen prepared pound cake, thawed, cut into 14 slices
1–1/3 cups blueberries, divided
1 tub (12oz) Whipped Topping, thawed
Instructions:
Slice 1 cup of strawberries; halve the remaining strawberries.
Cover bottom of 13X9 inch dish with cake slices.
Top with sliced strawberries and 1 cup blueberries.
Spread whipped topping over berries.
Arrange strawberry halves and remaining blueberries on whipped topping to resemble a US flag.
Keep refrigerated.
Upcoming Tradeshows – Will You be There?
If you are planning to attend either of these events, please stop by to see the ClassJuggler staff at our booth. We'd love to meet you in person.