Managing Policies & Agreements in ClassJuggler
Most class-based businesses that teach children have policies that they require each customer (family) to agree to before participating in classes. ClassJuggler has features to help you easily manage and track compliance with all of your important policies. You'll find the Policies & Agreements screen (under Optional Preferences) from the Preferences main menu. This is where you can set up all of your legalese policy verbiage.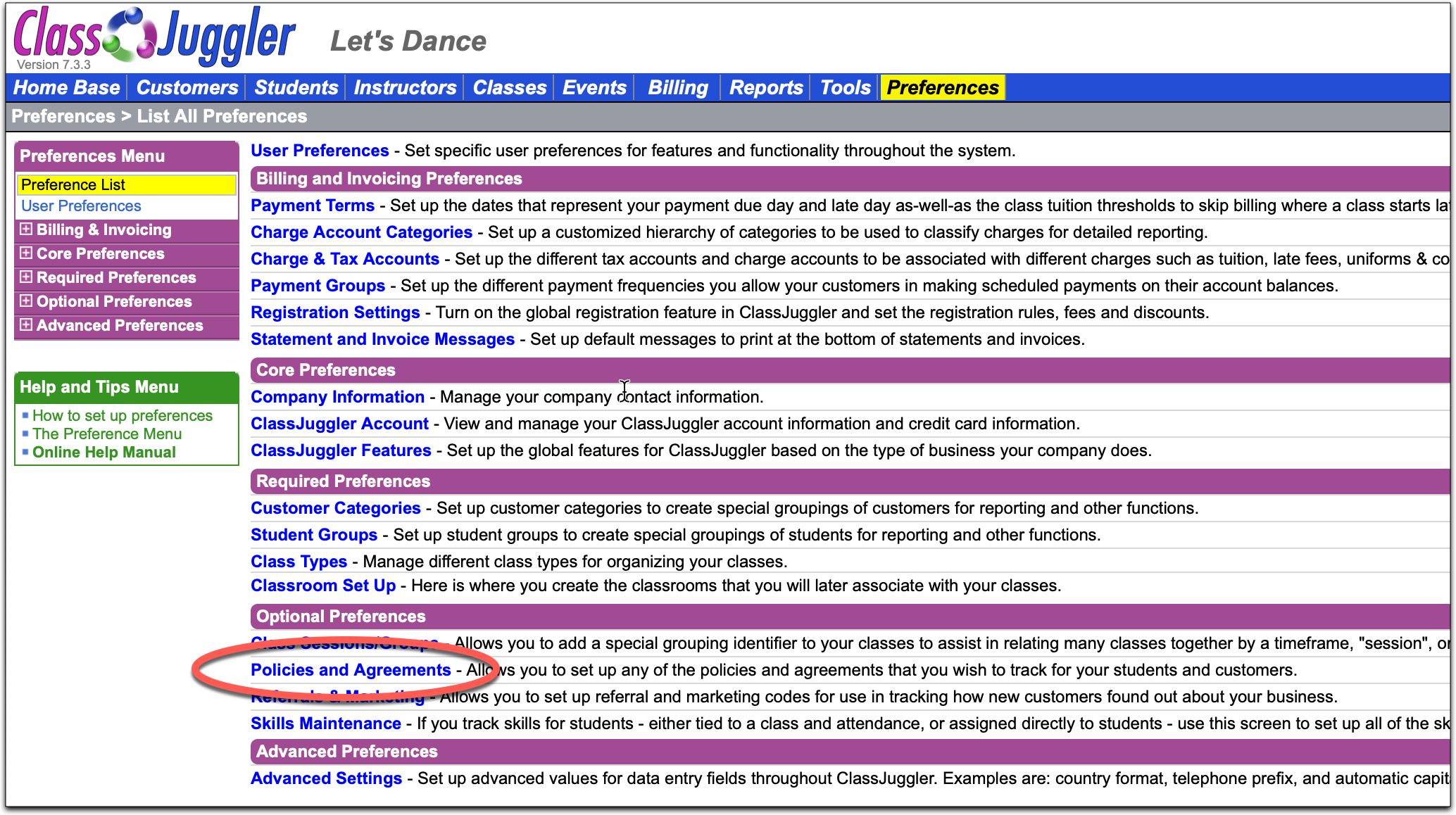 Once you've established your current policies, they are ready to be used by your administrative staff and in the Customer Portal (more on this in a sec).
Important tips for establishing your policies and agreements
Consider how dating a policy will affect it from year to year — As soon as one customer has agreed to a policy, that policy becomes locked. This prevents you from changing and invalidating a policy that is in-force. So, if you have a tuition payment policy for your business and give it the name, "Tuition Policy for 2020," you will need to add a new policy each year to keep the policy up-to-date each year, and all customers will need to agree to your new version of the policy. This does require a little more maintenance than general policies that aren't dated — but this may be your goal: to have customers agree annually to some or all of your polcies.
Keep it short and simple — While we all want to be thorough, keep your policies as short and to the point as possible, to ensure customers are not annoyed by overly wordy agreements.
Work with an attorney — Your policies are only as good as the binding language they present. Consider hiring an attorney to develop your policy language for you. And yes, we realize attorneys are not prone to "short and sweet" verbiage, so this may negate the prior point to some extent, ha ha.
Working with policies and agreements
Beyond the basics, you can also:
Archive your out-of-date policies — Since you cannot change a policy that has already been acknowledged by families, you will first need to archive the policy you wish to replace (moving it to history) and then replace it with a new version for your customers to acknowledge. This ensures that you never are out of compliance with your company policies as things change.
Generate a neatly formatted PDF version of any acknowledged policy — This is very useful when you need a copy for a dispute, such as in a credit card chargeback dispute. You can do this from the Policies & Agreements section of the Customer or Student Maintenance Page 2 screen.
Whether you are using the Customer Portal or handling policies manually, take advantage of the Customer Policies & Agreements report to list out customers who have agreed to a certain policy or those who have not agreed to a certain policy. This report makes it easy to determine who is in compliance with your rules and who is not.
Feature of the month — Hovering
Is this some kind of new two-wheeled teen craze? Nope. But it is a way to find a lot of information without having to access each record in your database! See more information about a customer, student, instructor, class or other record without having to select it to view all its details. This is especially useful when you have dozens of records to review (those clicks add up fast).
Use the "hover" or "floating info" feature on most ClassJuggler listing screens. Anytime you see the little dogear symbol
in a listing column, it means you can hover your mouse over that column to see additional information without having to drill-down into the record. Below is a great example of hovering over the name column in a customer listing. Here we can see many additional fields of information about the customer, including payment info, classifications, email address, etc. all without leaving the listing screen.

Watch and Learn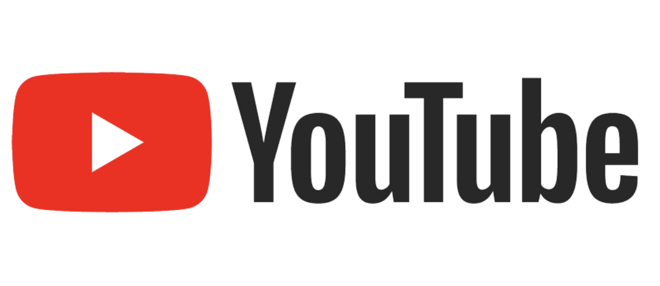 If you prefer learning by watching video tutorials, rather than reading how to do something new in ClassJuggler, just click the SUBSCRIBE button to be notified of the latest tutorial videos in the ClassJuggler Tutorial Videos section of our YouTube channel. Our most recent tutorial additions:
And as always, don't hesitate to reach out with your questions...
We really want to know if you have any suggestions for how ClassJuggler can help your businesses continue to operate as efficiently as possible during the pandemic. Please reach out to us via email or a phone call to (866) 214-6128 if you can think of anything that would make an impact on helping your business. We will continue to maintain normal support hours for all clients throughout the pandemic!