Happy New Year. The ClassJuggler Team wishes you a happy and prosperous 2016!
As we enter the new year, we're happy to bring you this month's edition which will provide you some valuable tips to help you close out your books for 2015 and get 2016 off to a great start.
If there are specific areas of interest you'd like us to include in future editions, send your suggestions to editor@classjuggler.com or give us a call at (866) 214-6128. We're also looking for clients who would like to share their best practices in using the ClassJuggler system. If you'd like to be the focus of an upcoming edition, please let us know.
Get Ready For Tax Season!
Use our Financial reports to get the information you need.
ClassJuggler is loaded with reports for just about every aspect of your business. Two of the most important reports for monthly bookkeeping and tax preparation are the Company Billing report and the Customer Payments report
Depending on how you do your accounting for your business will determine which of these reports you will run most often.
Here are some tips and details on these reports:
Company Billing – ACCRUAL based accounting. This report does exactly what its name suggests, which is to provide you with a list of charges you have posted in a particular period of time. Since this is only showing what you have posted in charges, and not what has been paid or not paid by your customers, this is the go-to report for businesses that use accrual-based accounting for their bookkeeping.

=EXAMPLE=
If you posted $1,000.00 in tuition and $200.00 in merchandise in the month you are reporting, this report would return the details of those charges and a net amount of $1,200.00 of income.
Customer Payments – CASH based accounting. This report will show you exactly how much money you "earned" in a period of time based on those payments being received.

=EXAMPLE=
If you posted $1,000.00 in tuition and $200.00 in merchandise in the month you are reporting, but only received payments on $900.00 of those charges, this report would return a net amount of $900.00 of income.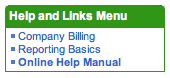 For more information on these reports and examples and instructions for running them, please refer to "Online Help Manual" found in the green Help & Links Menu found at the bottom left of every screen in ClassJuggler.
— Article by: Jon Koerber of ClassJuggler
Get $50 For Your Referral
Want to earn a cool $50? Love how efficient ClassJuggler has made your business? Are you passionate about helping similar businesses such as dance studios, gymnastics schools, swim classes, martial arts dojos, cheer camps, etc.? Tell another business owner about ClassJuggler and you can receive a $50 referral!
Simply have your referral enter your name and business name as their "Referral" when they sign up, and we will send you $50 to say thanks!
Full details and terms for referrals can be found on our fees policy page.