Mobile-Friendly Newsletter and Drawing Winners!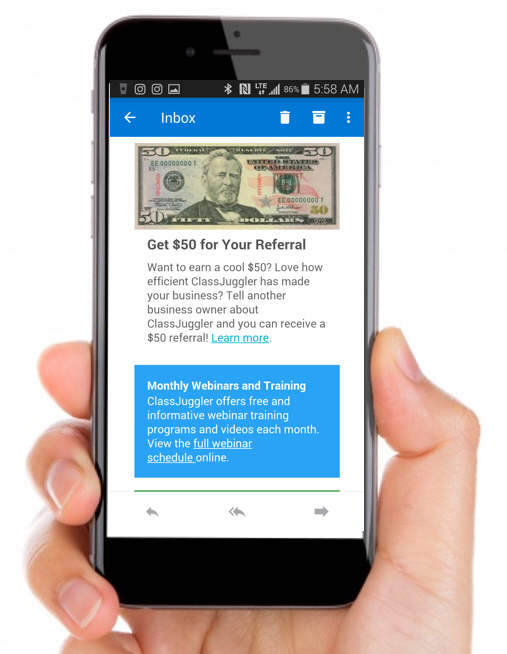 Our brand new mobile-friendly email newsletter for May was a great success! And the feedback we received on the new format was fantastic. As mentioned in the May newsletter, we held a drawing for four lucky winners of a $25 Home Depot™ eGift card from the group of people responding to our survey. And there were a lot of you. Thanks! Here are the four winners from the drawing:
Holly Cozort from Okalahoma Dance Academy
Danielle Kramer of Precision Gymnastics
Laurie Rothberg from JumpBunch of Northern Long Island
Alicia Timberman of Rising Stars Academy
Congratulations from the entire ClassJuggler team.
Here are some of the responses from our newsletter survey:
40% of you said you read the newsletter on a mobile device.
Over 90% of respondents thought the length of the newsletter was perfect!
96% of you felt that monthly was the right frequency for the newsletter.
Over 45% of you said you would read the newsletter more often in its new mobile format.
Nearly 70% thought the images and text sizes were ideal for mobile.
Thanks to all who took the survey! Your input and ideas were very helpful, and will influence our future newsletter content, design, and planning.
ClassJuggler Version 7.1.0 Launched May 22
The latest version of ClassJuggler launched this past month and it was a biggie.
One of the most requested features of the past 6 months, future class drops, was a big part of this release. Future drops give you the ability to schedule a student to be dropped from a class in the near future. This is very useful when a parent asks to drop out of a class at the end of the current or next month, or before summer sessions begin or any other future situation.
Make sure to check out all of the great features that came in the 7.1.0 release. You can find a full list of new features, enhancements and bug fixes in our change log found on your Home Base screen in ClassJuggler.
We will also be dedicating our June webinars to the new features in this release. Make sure to sign-up today!
Feature Highlight: Connect With Customers via Text
Have you tried ClassJuggler's built-in texting tool? This highly customizable tool makes it easy to get timely messages to all or a subset of your customers.
And here's some extra good news; while some of our competitors charge per message for their clients to use their messaging tool, the ClassJuggler messaging tool is totally free to any client, no matter how many students you have! This happens when the competitor is using a 3rd party to provide the text service, which adds not only cost but the complexity of having two vendors to deal with, rather than the convenience of working with a class-based business software provider like ClassJuggler.
Parent/Student Text Messaging Benefits
Text messaging is especially useful to you as a school owner or manager when you need to get a special, time-sensitive message to your customers or students. While many of your customers won't check their e-mail regularly, it's hard for them to miss an incoming text message to their smart phone.
Here are some examples of the kind of message that can benefit from the 'push" of SMS messaging:
A sudden schedule change (such as a weather-related closure or unexpected schedule adjustment)
An important reminder ("Don't forget to bring your costume tonight")
A message to select parents (late payment notice, class-specific parent meeting, etc.)
Customize your message recipient list for primo customer service
Don't you hate getting a text message that doesn't apply to you? That's why your customers will appreciate the fact that you can filter your text message recipient list by certain attributes so that it only goes to the right audience for the communication.
For example, you can specify...
This is just an excerpt from the full article. You can read the complete article on our ClassJuggler blog site.
New Email Servers
ClassJuggler just installed two brand new state-of-the-art high volume email servers at its main hosting facility in Northern California. These servers are replacing our outdated 4- and 5-year-old systems that had been serving us faithfully. These new email servers will ensure ClassJuggler continues to deliver your emails and text messages to your customers quickly and efficiently. Thanks to our IT team for this smooth transition.