Maintenance Update News
On October 7, we made a huge update to the core code platform that runs ClassJuggler. You can read more about that update in our October newsletter. This was a sweeping update touching every piece of software in ClassJuggler. While we were a bit nervous about the release of this update, due to its enormous scope, we are pleased to report that we have had no noteworthy bugs or issues reported since the update. Huzzah!
Prorated Tuition for the Holidays
A powerful feature of ClassJuggler is its ability to handle prorated billing, both for calculated class occurrences during a month and for "closed" days on your calendar. Prorated billing is handled at the time of enrollment for all three supported tuition types: monthly, per class, and total. That's great, but what about handling prorated fees during an ongoing monthly billing cycle when posting new tuition? Checking the "Prorate Monthly Tuition Charges" option from the Billing > Post Tuition screen can handle this for you. This is an optional feature that you can check when running your Post Tuition billing cycle step.


Additionally, when ClassJuggler prorates tuition for per class or monthly-based tuition, it adds a detailed secondary description to the transaction explaining how it calculated any prorated discounts. This is very handy when you need to determine why a certain amount was posted for a particular family.
Some important considerations:
Make sure that the classes that you want tuition to be prorated for (per class or monthly) have the checkbox for "skip 'closed' calendar event dates" enabled under Step #2: Class Schedule. If this isn't set, ClassJuggler will assume you wish to ignore this class for prorating calendar closed dates.
Per Class tuition always prorates based on class occurrences per month and also supports closed calendar dates by default.
Monthly based tuition allows for prorated class fees for closed calendar dates only when the checkbox is set on the Post Tuition billing cycle screen.
Ongoing Hurricane and Wildfire Relief
It has been only a couple months since hurricane Florence struck the southeast coast, less than a month that Michael arrived in Florida, and California continues to suffer from years of drought and fire. In support of these urgent needs, ClassJuggler is providing relief funding to those affected by the damage by donating to the American Red Cross, and we encourage you to do so likewise. At the Red Cross Disaster Relief website, you can get info on how to donate by mail, online, or by phone.
As a reminder, ClassJuggler will also provide a 50% fee reduction for each client affected by these disasters, until they can get back on their feet. Please contact us for details if you've been affected.
Handle Your Pop-up Blocker
Having trouble disabling your pop-up blocker when using ClassJuggler? This is a necessary tweak to your web browser software, and if not handled correctly can cause confusion and make it seem like ClassJuggler is not working.
We get lots of calls from users who are having problems because their Web browser software is blocking ClassJuggler's alerts and confirmation windows. It's easy to identify the cause of the problem, because ClassJuggler can actually detect when you have pop-up blocking enabled and presents you with a warning right when you sign-in.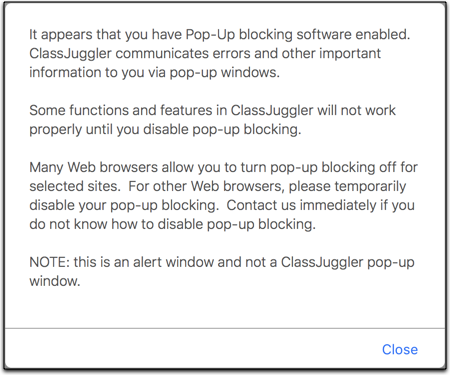 Disable Your Pop-Up Blocker
Disabling your pop-up blocker in Safari, Chrome, or Firefox is easy and will fix your problems in a jiffy.
Safari – The pop-up blocker settings are always under Preferences / Websites/ Pop-up Windows. Here you can add "classJuggler.com" and choose "allow" to always allow pop-ups.
Chrome – Select "Preferences" from the Chrome menu (Mac) or click on the three dots on the right side of the window and select "Settings" (Mac and Windows). Go to Content Settings / Pop-ups and Redirects to add "classjuggler.com" to your "allowed" websites section.
Firefox – Select "Preferences" from the Firefox menu (Mac) or click on the stacked bars menu on the right side of the window and select "Preferences" (Mac and Windows). Look for the Permissions section and the Block Pop-up Windows checkbox, then click the "Exceptions" button and add "www.classjuggler.com" to your "allowed" websites section.
Important: Web browsers like Internet Explorer/Edge, UC Browser, and other lesser known browsers are not supported, so use at your own risk.